WEEI-FM / Boston now under new brand management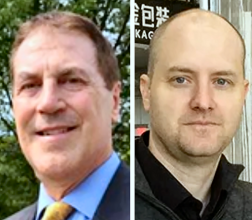 WEEI-FM / Boston now under new brand management
Jeff Rickard and Ken Laird
Audacy welcomes Jeff Rickard as Brand Manager for WEEI-FM Boston, starting August 11. In this role, Rickard will oversee content operations for WEEI-FM and the WEEI radio network, which covers the New England region. Rickard had previously served as program director and host of the WFNI All Sports Morning Show in Indianapolis.
"Having worked in sports radio for most of my career, I am delighted to join the WEEI team," said Rickard. "Its rich history is well documented, as is the unrivaled passion of the Boston sports fan. I look forward to pairing this talented team with fresh and new ideas to reflect and match that passion."
A regular in New England, Rickard spent nearly a decade in the area hosting "Gamenight" on ESPN Radio and later as the editor and host of the Boston-based program "Out of Bounds Latenight" on the Comcast network. He also had a successful five-year stint as program director for KFNZ in Salt Lake City, the flagship station of Utah Jazz. Rickard subsequently hosted the "Jeff Rickard Show" on nationwide sports news radio. While at Sporting News, he was asked to host live broadcasts for sporting events such as the Super Bowl, the Final Four, and boxing title fights. Rickard has also regularly hosted shows for numerous Sirius XM channels including NFL Radio, ESPNU, MLB Network Radio, and Mad Dog Sports Radio. He has been the host of NFL Radio's "The Sunday Kickoff" during the NFL season for the past five years and is the host of College Football Overtime on ESPNU. He was recognized by SI.com as "National Radio Personality of the Year" in 2006 and 2007.
"I am delighted to welcome Jeff to the team," said Tim Clarke, senior vice president and market director for Audacy Boston. "His deep expertise and experience in sports media along with his passion for our New England teams make him the ideal candidate to lead one of America's most legendary local sports brands."
Additionally, Ken Laird, currently executive producer of WEEI, will be promoted to Deputy Brand Director.
Laird is an Electrical / Computer Engineering graduate from Northeastern University ('02) who entered radio as an intern at WEEI in 2001. After graduating, Laird moved to Pittsburgh and worked his way up the ranks at ESPN Radio 1250, eventually hosting a nighttime talk show while covering the Steelers and Penguins. Also served as ESPN's National Steelers correspondent during this time. In 2011, Laird joined the Pittsburgh Tribune Review as a reporter and daily web radio host on TribLIVE Radio. He then joined WEEI, taking on various producer and contributor roles before eventually becoming Morning Drive's executive producer and update presenter.
"I'm excited to continue working with The Greg Hill Show while partnering with Jeff Rickard. Hope this gives me options if Greg comes to his senses and kicks me off his show," said Laird. "A sincere thank you to Mark Hannon and Tim Clarke for the opportunity to develop my career with Audacy and WEEI, a brand that I am proud to represent."
"Ken is an extremely talented and promising programming leader and will have a huge impact on WEEI in this expanded role," said Clarke. "I am extremely optimistic and excited about the continued evolution of WEEI under the leadership of Jeff and Ken. "