UNDERKNOWN, a leading digital media company, celebrates 5 stellar years of inspiration for the next generation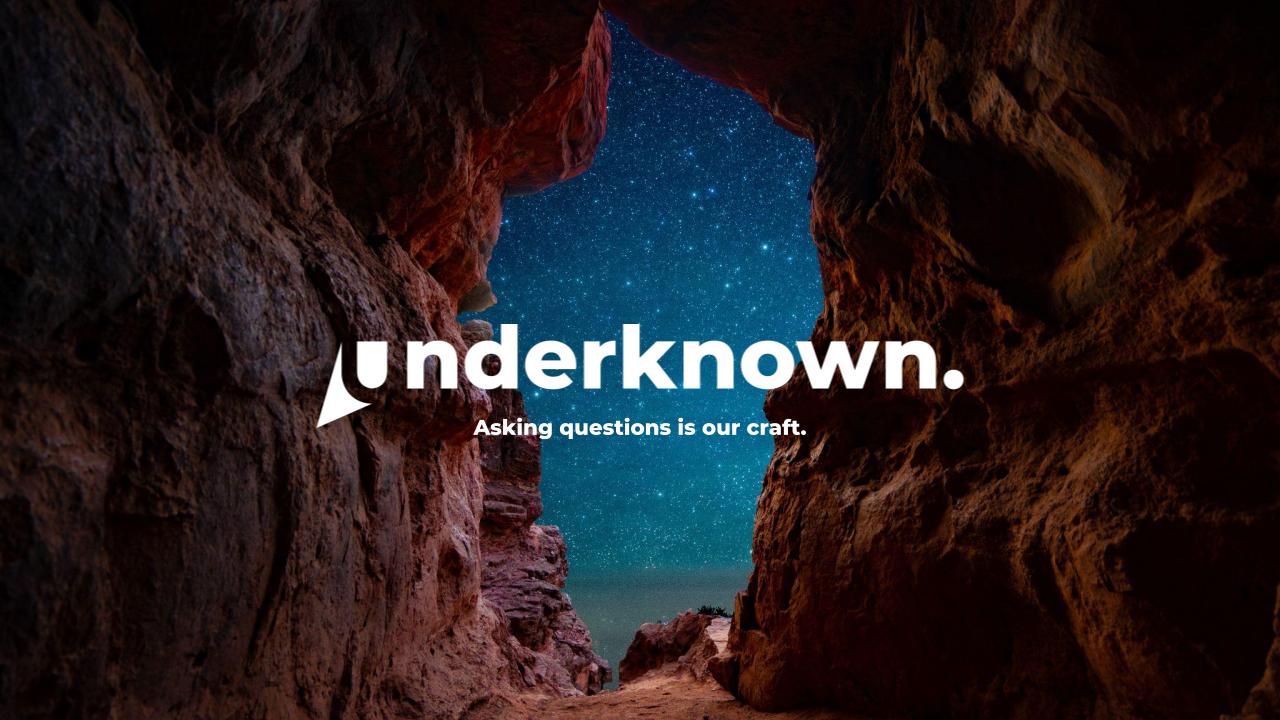 To think that in just 5 years we have gained almost 50 million followers and created content that has been viewed 17.5 billion times is still a little hard to understand.
TORONTO (PRWEB)
December 09, 2021
Underknown, the innovative, digitally-focused media company producing award-winning factual content, is celebrating its 5th anniversary. Best known for its Webby Award-winning series 'What If', Underknown produces eye-catching factual video content that is viewed by over 87 million monthly viewers in up to 10 languages ​​- all in search of the underlying truth about it. how our world works and how it happened.
In just 5 years, Underknown has grown their list of compelling web series to 6, with over 17 billion views in total, informing and motivating their audiences to live more informed lives. By exploring complex topics in a fun and engaging way, they have captured the interest of millions of followers newly engaged in science – all with the goal of making the planet a better place. Underknown now has nearly 50 million followers and an average of 648 million views per month.
Underknown has started to gain the attention of some of the biggest media companies in the world. Currently, they are working with Re: wild, a new environmental organization founded by a group of renowned conservation scientists and Leonardo DiCaprio, to produce Snap Inc.'s latest Snap Originals series, "Planet Rewild". Shown in 2022, "Planet Rewild" depicts what Earth will look like in the decades to come if we don't learn to "re wild" our planet – and also offers a vision of the thriving ecosystems that could emerge if we allow nature to be restored.
"To think that in just 5 years we have gained almost 50 million subscribers and created content that has been viewed 17.5 billion times is still a little hard to understand," says CEO and co-founder, Steve Hulford. "We are certainly excited about our current success, but please know that we have just started to scratch the surface of our capabilities and are even more excited about the next 5 years and beyond. "
Mr. Hulford has been a forward-thinking force behind the creation and growing success of Underknown since its humble inception in 2016. Together with his co-founder and Creative Director, Raphael Faeh, they built the company until 165 people around the world. One of the keys to their success is their innovative use of data-driven storytelling, as they build narratives around sets of data with visualizations that help convey the meaning of that information in an easy-to-understand way. , but convincing.
"Underknown uses a data-driven decision-making process to guide strategies that align with our goals, objectives and initiatives," said Raphael Faeh, Chief Creative Officer and Co-Founder. "Relying first on data and second on intuition, Underknown's process of using real facts and measurements to make informed decisions provides valuable and unique insight into the content that is disseminated to the world. public. "
This approach led to the incredible success of their first series "What If", which was ranked number one of the world's most viewed science and technology series by Tubular Labs. It also won its first Webby Award last year and took home the "Best Story" and "Best Use of Video" awards at this year's Shorty Awards. A futuristic television drama series based on "What If" is currently underway by director, screenwriter and producer Brad Peyton and visionary physicist Michio Kaku, via Thunderbird Entertainment's Great Pacific Media.
Underknown also uses data to create new series. For example, when analyzing data from "What if", they discovered that hypotheses about surviving extraordinary situations were particularly popular and used this idea to create their next show "How to Survive." This same data-driven process has shaped their current list of 6 series that continue to expand into new languages ​​and territories.
Underknown's impact isn't limited to the popularity and growth of their shows. Their unique way of summarizing complex topics in a fun and engaging way caught the attention of the United States House of Representatives, which invited Underknown to attend Digital Day on the Hill in Washington, DC to share some ideas on the way they do it.
Radio Television Digital News Association Canada honored Underknown for its LIVEMEDAID fundraiser in 2020, which raised funds for Doctors Without Borders and frontline health workers to continue the relief efforts underway during the COVID-19 pandemic.
Going forward, Underknown is developing a show in 2022 that will be fully developed in the Unreal game engine. This virtual reality environment allows them to create very realistic animation sequences that they can render scenes from their next show "VS" (Versus), where they will pit two animals from different millennia against each other. This breakthrough will also allow Underknown to learn and develop its brand of storytelling for the Metaverse.
—-
About Underknown:

Underknown is a digital media company that specializes in creating abridged web series for social video platforms. Underknown's mission is to create fun, engaging, and educational content that educates the world about science and the humanities. Underknown is a global, cross-platform digital video company based in Toronto.
For more information, visit https://underknown.com.
THE UNDERKNOWN SHOWS
"WHAT IF"

"What If" is Webby's award-winning science documentary web series that takes you on an epic journey through hypothetical worlds and possibilities, some to far-flung corners of the Universe, others right here on Earth. Each scenario examines a theory, research or scientific fact through hypothetical questions that fascinate and engage. By combining human perspectives with an almost endless pool of scientific imagination, we gain insight into the delicate existence of humanity in an otherwise hostile universe.
First scientific show on social networks, according to Tubular Labs (October 2019, March and April 2020)

300 million on average. monthly views on all platforms

12 billion minutes watched on Facebook, YouTube and Snapchat so far

37 million followers and subscribers on all platforms
"HOW TO SURVIVE"

There are a thousand ways to die, but a thousand ways science can save you. Whether it's an earthquake, a pandemic or a shark attack, "How to Survive" explains how to endure life-threatening moments using statistical facts combined with survivor stories. . Escape a tsunami? Run for the hills. Sinking boat? Collect rainwater (you will need it). "How To Survive" will keep you entertained and alive.
200 episodes since launch in April 2020

200 million on average. monthly viewing minutes on all platforms

3.5 million total subscribers on Snapchat, YouTube and Facebook
"YOUR BODY ON"

The human body has become a laboratory for fitness gurus, biohackers, and food scientists around the world to try out their wackiest bodily experiments, filling our foods with fasts, muscle hacks, and hygiene stunts. In "Your Body On" we delve into the fitness and wellness trends that fill our newsfeeds by doing what we do best: subjecting the human body to the "what if" test. Launched in April 2021, "Your Body On" is the latest addition to our family of entertainment brands.
30 million unique viewers per month on all platforms

Over 100 million minutes watched each month on all platforms

3 million total subscribers on Snapchat, YouTube and Facebook
"CRAZY CREATURES"

A breathtaking destination where you will discover beasts, large and small, doing what comes naturally to them, even if it is a little disgusting. Evolution has carefully crafted some of the coarsest, viscous, and weirdest beings you can imagine, and it was all done for a reason. Find out for yourself why, when it comes to the survival of the strongest in the world around Homo erectus, you have to be weird to survive.
1.5 million total subscribers on Snapchat, YouTube and Facebook
"ORIGINS OF FOOD"

We know when we like it. We certainly know when we hate it. The taste, smell, look and texture of the popular culinary creations we taste today all started somewhere, and "Origins of Food" mixes the history and culture behind what we eat in bite-size pieces. fun and informative stories that will appeal to everyone. From exotic ingredients that make or break a dish to that favorite sauce we can't live without, this series mixes mouth-watering visuals with startling facts about ordinary and not-so-ordinary foods. Food is a universal experience that unifies people, cultures and countries. "Origins of Food" aims to do the same.
* Recently launched, metrics are not yet available