How 5G will impact India's digital marketing landscape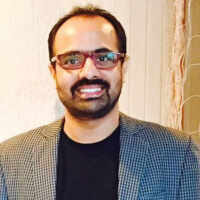 With the launch of 5G services in India, we are about to usher in a new era of significant technological revolution that will truly enhance the vision of Digital India. It wouldn't be an exaggeration to say that 5G will be the much-needed highway for this country's digital transformation to unlock its true potential for the people at large. 4G has been around for about ten years. The adoption of high-speed Internet has grown exponentially over the past few years. However, network strength, coverage, and latency have been some of the weak points (or shall we say limiting factors) for many technological possibilities to materialize.
5G (or the 5th generation mobile network) is designed to deliver significantly faster speed than 4G, ultra-low latency, wider coverage through increased capacity, and extremely efficient use of every bit of the spectrum. Simply put, 5G would mean high-speed internet access for a large population across all socio-economic classes; a significant increase in speed even for those already connected to a 4G network; a better experience when conducting high-intensity online activities; and unlocking products/services and experiences that until now was new. Changes in access, experience and behavior of a medium to large population will always have a significant impact on marketing scenarios – and this situation is no different.
Here are some of the areas that will provide huge opportunities for brands, products and services to tap into in terms of deeper immersive marketing avenues, delivering better digital experiences and creating new communication mediums to deliver tailored level communication. superior.
Integration of AR/VR content for marketing and digital experience
AR/VR content support has been around for a while, but with very little or limited use in practical applications. With higher speed, increased connection consistency or stability, and broader population coverage, AR/VR support presents a huge opportunity for brands to leverage this immersive medium for communication and engagement throughout throughout the customer life cycle. For example, a car manufacturer can provide a real-time test drive experience in a simulated environment, an e-commerce brand can provide near-real product demonstration on shopping websites, and a real estate company can provide a walk – through to showcase its property – to name just a few of the many immersive engagement experiences we'll see come to life in the coming months. Additionally, even advertisements could present a more immersive/real product simulation, giving the customer more confidence and shortening their decision-making journey.
Giving life and use to the 4th industrial revolution
IoT is no longer a foreign term; some of us maybe use it in our daily life. However, at present, not even a fraction of the scale and potential that this technological ecosystem has to offer is being utilized. 5G offers the ability to seamlessly connect a large number of sensors embedded in devices, remote and cloud-based management of manufacturing processes, monitoring and automation of large infrastructures and more. All of these automations and integrations would result in personalized and contextual communication opportunities for brands, driving discovery, engagement, and transactions relating to new or expanded products or services. This is an area where there are countless use cases for marketing technology innovations.
Video/Voice/Vernacular Revolution 2.0
A seamless browsing experience with faster downloads will boost the already lightning-fast growth in video content consumption. The quality of streamed (or shall we say in-demand) content is bound to change with the viewer's ability to stream high-bandwidth-intensive content. Not only that, with wider population coverage and consistent connectivity across regions, the already strong base of around 400 million video viewers is expected to grow by leaps and bounds. Additionally, 5G is expected to dramatically reduce reliance on cable and DISH TV, bringing more people into the fold of OTT and connected TV platforms. Deeper penetration would provide brands with the ability to deliver richer and broader content, more advertising; and broader coverage across languages ​​and geographies.
Leverage big data and AI for deeper personalization
An exponential increase in the connectivity of existing and new avenues through touchpoints and interaction with the population at large – would generate a massive amount of data. This data would provide a treasure trove of information for all possible TG character sets. This information would most certainly be leveraged for hyper-personalization of communication, media delivery, creation of experiences, and even for designing new offerings (or modifying current ones) for target groups across the spectrum. What's going to be the icing on the cake is that all of this information would be available on the fly, in absolute real time and in the most transparent way possible, enabling effective use of every marketing dollar spent.
Play on the go
With the significant improvement in mobile hardware and access to better internet speed, online gaming has seen a significant increase in adoption and usage over the past decade. However, there are still limits to harnessing the true potential of this medium, and marketing uses of this medium have been limited primarily to media placements and sometimes engagement via gamification (although a secondary activity in the overall marketing plan). As a result, there are very few serious use case studies of this medium for consumer marketing. I think that's about to change with 5G, potentially making cloud gaming a large-scale reality, where all major computing power could be transferred to the cloud, allowing users to play games using high resolution streaming. This has the potential to virtually transform gaming, not only making games independent of device, location, environment, etc., but also making the whole medium viable for brands at scale to to leverage it for consumer marketing.
The use and application of 5G is going to be huge in all spheres of communication. We can see a lot of it, given the limitations of existing media, and a lot will be visible as it rolls out at scale. In short, this is going to be a new wave of revolution in the digital transformation timeline of this world. It would be fair to say that this is going to be a milestone in the democratization timeline – putting more power in the hands of consumers. Digital marketing, in particular, will benefit immensely. Digital advertising, although growing at 31% per year, still accounts for 33.4% of overall ad spend, compared to a global average of over 55%. This is sure to change, and soon India could approach the global average when it comes to digital share of total ad spend.
END OF ARTICLE